Tombstone (Hollywood Pictures Movie)
Here is everything you need to know about the amazing Hollywood Pictures movie Tombstone including casting, reviews, fun facts and more. I hope you find this listing informative and helpful!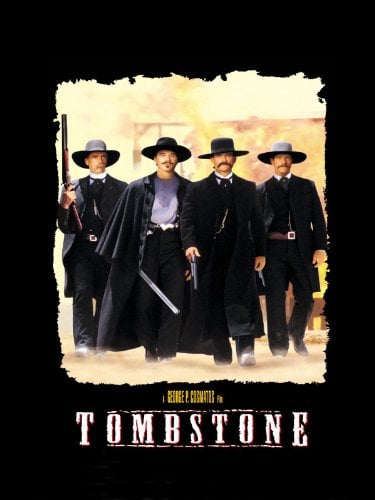 Tombstone Details:
A sizzling, star-studded cast brings to life the legendary battle to deliver justice to TOMBSTONE! Kurt Russell turns in a gripping performance as U.S. Marshall Wyatt Earp and Val Kilmer ignites the screen as the outrageous Doc Holliday. Together, they team up to bring law to the lawless in a notorious showdown with the ruthless outlaws at the O.K. Corral! Get ready for an explosive, action-packed adventure the Wild West would never forget!
Key Cast:
Kurt Russell: Wyatt Earp
Val Kilmer: Doc Holliday
Sam Elliott: Virgil Earp
Bill Paxton: Morgan Earp
Powers Boothe: "Curly Bill" Brocius
Michael Biehn: Johnny Ringo
Charlton Heston: Henry Hooker
Jason Priestley: Billy Breakenridge
Jon Tenney: Sheriff Johnny Behan
Stephen Lang: Ike Clanton
Thomas Haden Church: Billy Clanton
Dana Delany: Josephine Marcus
Paula Malcomson: Allie Earp
Lisa Collins: Louisa Earp
John Philbin: Tom McLaury
Dana Wheeler-Nicholson: Mattie Blaylock
Joanna Pacuła: Big Nose Kate
Michael Rooker: Sherman McMasters
Harry Carey, Jr.: Marshal Fred White
Billy Bob Thornton: Johnny Tyler
Tomas Arana: Frank Stilwell
Paul Ben-Victor: "Indian Charlie" Cruz
Robert John Burke: Frank McLaury
Billy Zane: Mr. Fabian
John Corbett: Johnny Barnes
Buck Taylor: "Turkey Creek" Jack Johnson
Terry O'Quinn: Mayor John Clum
Peter Sherayko: John "Texas Jack" Vermillion
Wyatt Earp III: Billy Claiborne
Robert Mitchum: Narrator
Key Crew:
Director: George Cosmatos
Producers: James Jacks, Sean Daniel and Bob Misiorowski
Writer: Kevin Jarre