Here is everything you need to know about the amazing Disney movie Noelle including casting, reviews, fun facts and more. I hope you find this listing informative and helpful!
Noelle Description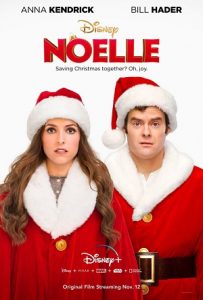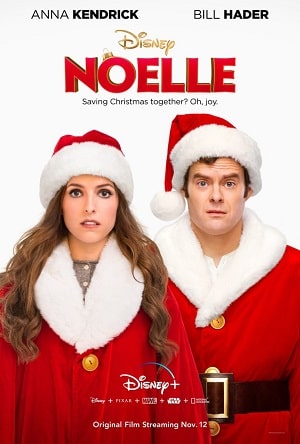 "Noelle" is a Disney Christmas comedy film released in 2019. The movie tells the story of Santa Claus's daughter, Noelle Kringle, played by Anna Kendrick. Noelle is part of the Kringle family, who have been responsible for delivering presents and spreading holiday cheer for generations.
As the Christmas season approaches, Noelle's brother, Nick Kringle (played by Bill Hader), is set to take over the role of Santa Claus from their father (played by Bryan Brendle). However, Nick is feeling overwhelmed by the responsibility and decides to take a break from the North Pole.
Feeling a sense of duty to ensure Christmas goes smoothly, Noelle sets off on an adventure to find her brother and bring him back to save the holiday. She travels to the real world, specifically to Phoenix, Arizona, where she believes Nick might be.
In the human world, Noelle befriends a private investigator named Jake Hapman (played by Kingsley Ben-Adir) and they team up to locate Nick. Along the way, Noelle experiences the joys and challenges of the real world during the holiday season, learning valuable lessons about the true meaning of Christmas.
The film is filled with humorous and heartwarming moments as Noelle tries to navigate the modern world while still upholding the family tradition of spreading Christmas joy. As the story unfolds, Noelle discovers her own unique way of embracing the spirit of the season and ultimately finds the true magic of Christmas within herself.
"Noelle" captures the essence of Christmas with its themes of family, kindness, and the importance of self-discovery. The film blends humor and warmth, making it a delightful watch for audiences of all ages during the holiday season.
Anna Kendrick's charming performance as Noelle adds to the film's appeal, and her character's journey from uncertainty to embracing her own strength is both relatable and inspiring. The supporting cast, including Bill Hader and Kingsley Ben-Adir, contributes to the film's heartwarming and entertaining atmosphere.
Overall, "Noelle" is a feel-good Christmas movie that celebrates the joy of the season and reminds us that the true magic of Christmas lies in the spirit of giving, love, and the joy of being together with loved ones. It is a delightful addition to Disney's lineup of holiday films and perfect for families to enjoy during the festive season.
---
Noelle Cast:
Anna Kendrick: Noelle Kringle
Oakley Bull: Young Noelle
Taylor Bedford: Teenage Noelle
Bill Hader: Nick Kringle
Owen Vaccaro: Young Nick
Shirley MacLaine: Elf Polly
Kingsley Ben-Adir: Jake Hapman
Billy Eichner: Gabriel Kringle
Julie Hagerty: Mrs. Kringle
Jay Brazeau: Kris Kringle
Maceo Smedley: Alex
Diana Maria Riva: Helen Rojas
Ron Funches: Elf Mortimer
Michael Gross: Elder Elf Abe
Chelah Horsdal: Dr. Shelley Sussman
Anna Van Hooft: Elf Mary
Anthony Konechny: Elf Ted
Burgess Jenkins: Dan
Jason Antoon: Omar
Shaylee Mansfield: Michelle
Gracie Lawrence: Elf Carol
---
Noelle Crew:
Director: Marc Lawrence
Producers: Suzanne Todd
Music: Cody Fitzgerald and Clyde Lawrence
---
Noelle Details
Noelle Trailer:
---