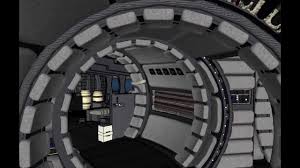 Disney has announced a creative new way to promote Solo: A Star Wars Story to the masses. They are taking the Millennium Falcon on the road!
Well, not exactly the whole Millennium Falcon, but a full-scale replica of the iconic ship's interior. Here is a description of the new Millennium Falcon Experience, along with tour dates and ticketing info from today's StarWars.com announcement:
Constructed inside three 40-foot long shipping containers, visitors can stop by Lando's bar, sit at the famed Dejarik table, and finally get the chance to say "Punch it!" from inside the iconic cockpit. The finest details were crafted using the same molds used in Solo: A Star Wars Story!

Here's where you can find the new Millennium Falcon Experience:

Northern Kentucky University (NKU), April 27-29
Atlanta Braves Stadium, May 4-6
Salt Lake City Megaplex 20 at Jordan Commons, May 18-20
Denver Alamo Drafthouse Cinema Littleton, May 25-27

Free tickets will be distributed on a first-come basis this weekend, beginning Friday at 10:30 a.m. and starting with the earliest entry time for the same day. Tickets for both Saturday and Sunday can be obtained on the day of entry beginning at 8 a.m.