The Disney Parks Blog gave us a bit of a surprise late this afternoon when they announced an upcoming overhaul of Disneyland's Adventureland. The specific section of Adventureland that will be getting a makeover is the area known as Aladdin's Oasis (section between the Jungle Cruise and Tiki Room) and will be soon called "The Tropical Hideaway."
According to Disney, "This one-of-a-kind destination will be a popular rest stop for Adventureland locals and weary explorers alike. Guests will be able to rub elbows with their favorite skippers in an exotic traders' market, featuring all of the sights, sounds and flavors of the tropics."
As always, I will be adding updates here as more details about The new Tropical Hideaway section of Disneyland's Adventureland emerge, so be sure to subscribe and stay tuned!
Update 8/28/18: Disney Parks Blog has given us a sneak peek at The Tropical Hideaway and it sounds amazing. Here is their brief synopsis of what visitors can expect (source):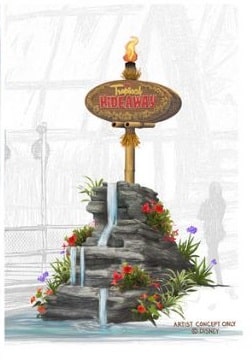 With its proximity to the Jungle Cruise, you never know what appetizing goods will be available in the trader's market! Imagine tempting your taste buds with one of the many market eats, such as a warm steamed bao bun. These unique bao buns will come in three different types – Spiced Vegetable Bao, Kaffir Lime Chicken Bao, and Bulgogi Beef Bao. You can also try a delicious chilled ramen salad or grab a tropical-inspired snack. And for a sweet treat, you can try Sweet Pineapple Lumpia, a spring roll filled with pineapple and sweet cream cheese!
After picking up a snack or two, choose a spot on the open-air dock, soak in the sights of the Jungle River waterfront, sit back, and listen to the musical sounds of the tropics – all while experiencing delicious new tastes! After the sun goes down, flickering torch lights will illuminate the area, transforming The Tropical Hideaway into an enchanting nighttime venue.
Update 12/11/18: As the opening of the new Tropical Hideaway section of Disneyland nears, the Disney Parks blog has shared a bunch of amazing photos of the land including the one below of Rosita, the missing cockatoo in the Enchanted Tiki Room show!
For more images, see this post on their site.