Cheetah (1989 Movie)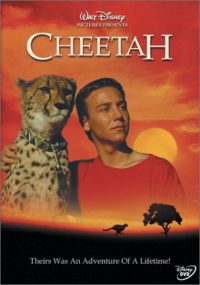 Cheetah Description:
For California teenagers Ted Johnson, and his sister Susan, a summer vacation in Africa turns into an incredible adventure and a struggle for survival! With their new friend, Morogo, a Masai tribal boy, they share an amazing, confusing, and funny cross-cultural friendship. Together they find an orphaned cheetah cub, "Duma," and raise her as a pet. But when Duma is stolen by corrupt gamblers, Ted and Susan set out alone across the uncharted wilderness to find her.
Key Cast Members:
Keith Coogan: Ted Johnson
Lucy Deakins: Susan Johnson
Collin Mothupi: Morogo
Joe Herrington: Duma (voice)
Timothy Landfield: Earl Johnson
Breon Gorman-Landfield: Jean Johnson
Mhlangabezi Ka Vundla: Kipoin
Lydia Kigada: Lani
Kuldeep Bhakoo: Mr. Patel
Paul Onsongo: Abdullah
Anthony Baird: Nigel
Rory McGuinness: Larry
Rod Jacobsen: David
David Adido: Mwangi
Konga Mbandu: Police Captain
Martin Okello: Friendly Policeman
Allaudin Qureshi: Patel's Cousin
William Tsuma: Cabbie
Waigwa Wachira: Racetrack Policeman
Jim Ward: Announcer
Jan MacCoy: Stewardess
Evalyne Kamau: Nyambura
Jane Gelardi: Announcer's Girlfriend
'J.J.' Joseph Otieno Adamson: Blue Duka Band Member 1
David Otieno: Blue Duka Band Member 2
Wally Amalemba: Blue Duka Band Member 3
Tony Evans Kalanzi: Blue Duka Band Member 4
Kelly Harry Ngetsa: Blue Duka Band Member 5
Thomas Akare: Bettor 1
Denis Doughty: Bettor 2
Siddik Ebrahim: Bettor 3
Lee Harvin: Bettor 4
Aloysius Lazarus: Greyhound Owner 1
Njoroge Ngoima: Greyhound Owner 2
Frank Turner: Greyhound Owner 3
Lynn Kresell: Ticket Agent
---
Related Articles:
---