Kilimanjaro Safaris (Disney World Ride)
Here is everything you need to know about Walt Disney World's Animal Kingdom park's Kilimanjaro Safaris ride including ride history, fun facts, photos and more. I hope you find this listing informative and helpful!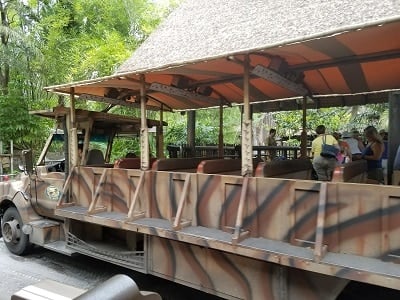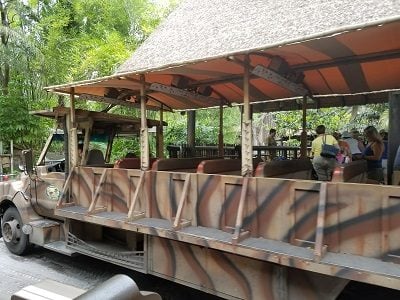 Kilimanjaro Safaris Details:
On Disney's Animal Kingdom's Kilimanjaro Safaris, ride off in an open-air vehicle for a day or evening tour of a lush African savanna, home to real-live exotic animals.
Glimpse real African animals in their natural habitats during an 18-minute expedition into the Harambe Wildlife Reserve.
Traipse along a picturesque twisting path amid a lush garden gateway and make your way to the rendezvous point of Kilimanjaro Safaris expedition, the touring company for your adventure into the wilds. Featuring picturesque open plains, shady forest landscapes and rocky wetlands, the 110-acre Harambe Wildlife Reserve is a spectacular sanctuary dedicated to the protection of African animals.
The Call of the Wild
Climb aboard an open-air safari vehicle and hang on tight as you take off on a guided tour into the African outback—where over 34 different species of exotic African wildlife seemingly roam free. As your bumpy transport makes its way through rugged terrain, glimpse an array of exotic animals in a variety of unique habitats, your helpful guide providing you with valuable information about the land and its inhabitants.
Unique Animal Encounters
Spot a shy hippopotamus nestled beneath a still pond. Behold a regal lion sunbathing on a rocky perch. Drive past a gentle giraffe grazing on the tall tree or wave hello to a swinging baboon. Since animals have minds of their own, every Kilimanjaro Safari expedition is a unique and unforgettable experience.
Some animals you may encounter during the tour include:
Antelope
Baboon
Black rhino
Cheetah
Crocodile
Elephant
Flamingo
Gazelle
Giraffe
Hippopotamus
Hyenas
Lion
Okapis
Ostrich
Warthog
White rhino
Wildebeest
Wild dogs
Zebra
Be sure to keep your eyes open and have a camera ready! You never know what amazing animals you'll see on a Kilimanjaro Safaris outing.
Kilimanjaro Safaris Fun Facts and Statistics:
This ride lasts roughly 20 minutes.

The ride originally had a dead elephant animatronic at the end of it to show the horrors of poaching…it didn't go over very well and was removed.

Night safaris began in 2016.

The flamingo island is a hidden Mickey.

Number of different species of exotic African wildlife are housed at the Harambe Wildlife Reserve: 34
Disney Park(s) in this Post:
Disney's Animal Kingdom
---

Related News:

---

Related Articles:

---