Here is everything you need to know about Walt Disney World's Disney's Animal Kingdom's extinct Mickey's Jammin Jungle Parade including history, fun facts, photos and more. I hope you find this listing informative and helpful!
Mickey's Jammin Jungle Parade | Disney World Description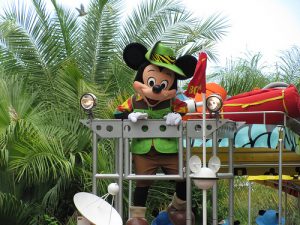 Mickey's Jammin' Jungle Parade was a lively and colorful parade that used to take place at Disney's Animal Kingdom in Walt Disney World Resort, Florida. The parade was a celebration of the vibrant and diverse wildlife and cultures found in the different regions of the world.
During Mickey's Jammin' Jungle Parade, guests could experience a procession of elaborately decorated floats, filled with beloved Disney characters, safari vehicles, and dancers, all dressed in colorful costumes that represented various animal habitats and cultures.
The parade featured a catchy and infectious musical soundtrack that had guests dancing and singing along as the procession made its way through the park. The lively beats and energetic performances added to the festive atmosphere and made the parade a joyful experience for guests of all ages.
The parade route took guests along Discovery River in the Asia and DinoLand U.S.A. sections of the park, providing ample viewing spots for guests to enjoy the spectacle.
Please note that Mickey's Jammin' Jungle Parade was discontinued after its last performance in 2014.
---
Mickey's Jammin Jungle Parade | Disney World Details
---