Here is everything you need to know about the amazing Lucasfilm movie Indiana Jones and the Temple of Doom including casting, reviews, fun facts and more. I hope you find this listing informative and helpful!
Description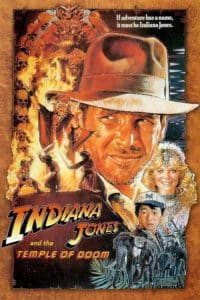 Indiana Jones and the Temple of Doom is the second installment in the Indiana Jones film series. It was released in 1984 and directed by Steven Spielberg. The film serves as a prequel to "Raiders of the Lost Ark," although it was actually released as a sequel.
In Indiana Jones and the Temple of Doom, archaeologist and adventurer Indiana Jones, portrayed by Harrison Ford, finds himself in a precarious situation in 1935 Shanghai. After a deal goes awry, Indy, along with his companions, singer Willie Scott (played by Kate Capshaw) and child sidekick Short Round (played by Jonathan Ke Quan), ends up in a remote village in India.
The village is oppressed by a cult that practices human sacrifice and has stolen a sacred stone. Indy, Willie, and Short Round become embroiled in the cult's plans and must navigate treacherous obstacles, including booby traps and a perilous underground temple. Their mission is to retrieve the sacred stone, save the children of the village, and ultimately stop the cult's nefarious activities.
Indiana Jones and the Temple of Doom is known for its intense action sequences, darker tone compared to its predecessor, and its iconic scenes, such as the mine cart chase. While it received mixed reviews upon release, it has gained a dedicated fan base over time and is considered an integral part of the Indiana Jones franchise.
---
Cast:
Harrison Ford: Indiana Jones
Kate Capshaw: Willie Scott
Ke Huy Quan: Short Round
Amrish Puri: Mola Ram
Roshan Seth: Chattar Lal
Philip Stone: Captain Philip Blumburtt
---
Crew:
Director: Steven Spielberg
Screenplay: Willard Huyck and Gloria Katz
Producer: Robert Watts
Music: John Williams
---
Additional Details
Movie Studio: Lucasfilm
Year Released: 1984
Type of Movie: Live Action
Box Office: $333.1 million
---
Indiana Jones and the Temple of Doom Trailer:
---