Herbie Goes To Monte Carlo (1977 Movie)
Last Updated on: June 7th, 2022
Here is everything you need to know about the amazing Disney movie Herbie Goes To Monte Carlo including casting, reviews, fun facts and more. I hope you find this listing informative and helpful!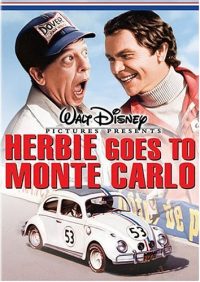 Herbie Goes To Monte Carlo Description:
Herbie heads to Paris to enter the Paris-to-Monte Carlo road race and falls hood over wheels in love when he encounters a sleek, sporty, light blue Lancia. Also vying for Herbie's attention is a gang of jewel thieves, who've ingeniously hidden a stolen gem in Herbie's gas tank! Thus begins a madcap chase across the French countryside that only The Love Bug could create!
Key Cast Members:
Dean Jones: Jim Douglas
Don Knotts: Wheely Applegate
Julie Sommars: Diane Darcy
Jacques Marin: Inspector Bouchet
Roy Kinnear: Quincey
Bernard Fox: Max
Eric Braeden: Bruno von Stickle
Xavier Saint-Macary: Detective Fontenoy
François Lalande: Monsieur Ribeaux
Alan Caillou: Emile
Laurie Main: Duval
Mike Kulcsar: Claude Gilbert
Johnny Haymer: Race official
Stanley Brock: Taxi driver
Gérard Jugnot: Waiter
Jean-Marie Proslier: Doorman
Tom McCorry: Showroom M.C.
Lloyd Nelson: Mechanic
Jean-Jacques Moreau: Truck driver
Yveline Brière: Girl friend
Sébastien Floche: French tourist
Madeleine Damien: Old woman
Alain Janey: Man at café
Raoul Defosse: Police Captain
Ed Marcus: Exhibit M.C.