Herbie Rides Again (1974 Movie)
Last Updated on: June 8th, 2022
Here is everything you need to know about the amazing Disney movie Herbie Rides Again including casting, reviews, fun facts and more. I hope you find this listing informative and helpful!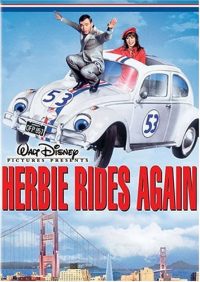 Herbie Goes To Monte Carlo Description:
In Disney's Herbie Rides Again, Herbie is back! And this time Herbie's leading lady is award-winning actress Helen Hayes, out to save her beloved Victorian firehouse home from the wrecking ball of greedy real estate tycoon Keenan Wynn.
Key Cast Members:
Helen Hayes: Mrs. Steinmetz
Ken Berry: Willoughby Whitfield
Stefanie Powers: Nicole Harris Whitfield
John McIntire: Mr. Judson
Keenan Wynn: Alonzo A. Hawk
Huntz Hall: Judge
Ivor Barry: Maxwell – Chauffeur
Vito Scotti: Taxi Driver
Liam Dunn: Doctor
Elaine Devry: Millicent – Secretary
Chuck McCann: Fred Loostgarten
Richard X. Slattery: Traffic Commissioner
Don Pedro Colley: Barnsdorf
Larry J. Blake: Police Officer
Iggie Wolfington: Lawyer – Second Team
Jack Manning: Lawyer – First Team
Hal Baylor: Demolition Truck Driver
Herb Vigran: Window Washer
Edward Ashley: Announcer at Chicken Race
Beverly Carter: Chicken Run Queen
Norm Grabowski: Security Guard #2
Irwin Charone: Lawyer – Second Team
Gail Bonney: Rich Woman in Mansion
Burt Mustin: Rich Man in Mansion
John Myhers: Announcer at San Francisco's Office of the President
John Stephenson: Lawyer – Second Team
Robert Carson: Lawyer – First Team
Raymond Bailey: Lawyer – Second Team
Arthur Space: Beach Caretaker
John Hubbard: Angry Chauffeur
Fritz Feld: Maitre d'
Alvy Moore: Angry Taxi Driver
Karl Lukas: Angry Construction Worker
Paul Micale: Fisherman's Wharf Waiter
John Zaremba: Lawyer – First Team
Alan Carney: Judge with Cigar at Chicken Run
Ken Sansom: Lawyer – First Team
Maurice Marsac: French Waiter