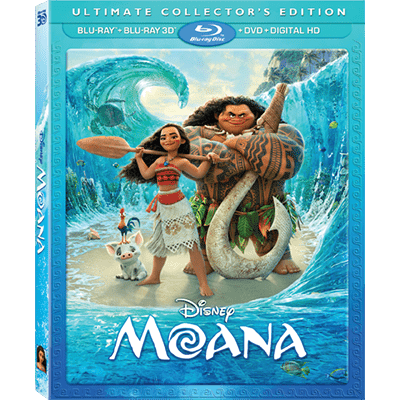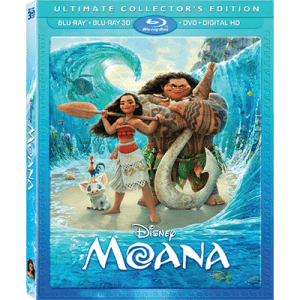 Even though it is still going strong in theaters, Disney has made the bold move of announcing the release date for the Moana DVD and other digital video options. The hit animated movie will be released on Disney Movies Anywhere on February 21, and on Blu-ray 3D, Blu-ray, Digital SD, DVD and On-Demand on March 7.
There was no date given yet for Moana's streaming release on Netflix.
Moana, rated PG, was released in late November and has grossed over $450 million to date.
In case you are not up to speed on Moana, here is a quick synopsis from Disney Movies:
For centuries, the greatest sailors in the world masterfully navigated the vast Pacific, discovering the many islands of Oceania. But then, 3,000 years ago, their voyages stopped for a millennium – and no one knows exactly why. From Walt Disney Animation Studios comes "Moana," a sweeping, CG-animated feature film about an adventurous teenager who is inspired to leave the safety and security of her island on a daring journey to save her people. Inexplicably drawn to the ocean, Moana (voice of Auliʻi Cravalho) convinces the mighty demigod Maui (voice of Dwayne Johnson) to join her mission, and he reluctantly helps her become a wayfinder like her ancestors who sailed before her. Together, they voyage across the open ocean on an action-packed adventure, encountering enormous monsters and impossible odds, and along the way, Moana fulfills her quest and discovers the one thing she's always sought: her own identity. Directed by the renowned filmmaking team of Ron Clements and John Musker ("The Little Mermaid," "Aladdin," "The Princess & the Frog"), produced by Osnat Shurer ("Lifted," "One Man Band"), and featuring music by Lin-Manuel Miranda, Mark Mancina and Opetaia Foa'i.
The Moana DVD, Digital HD and Blu-Ray can be advance ordered from Amazon here. (affiliate link)
 Moana Trailer: