Puppy Dog Pals (Disney Junior)
Here is everything you need to know about the amazing Disney TV show Puppy Dog Pals including casting, reviews, fun facts and more. I hope you find this listing informative and helpful!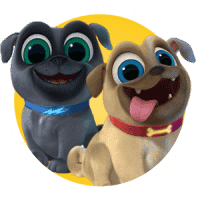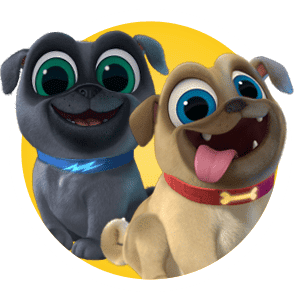 Puppy Dog Pals Plot:
Puppy Dog Pals is an animated series about two fun-loving pug puppy brothers, Bingo and Rolly, whose thrill-seeking appetites take them on adventures around their neighborhood and beyond.
Fun-loving pug puppies, brothers Bingo and Rolly, have thrill-seeking appetites that take them on exhilarating adventures in their neighborhood and around the globe. Whether helping their owner Bob or assisting a friend in need, the pugs' motto is that life is more exciting with your best friend by your side. Each episode features two 11-minute stories that showcase Bingo and Rolly's similarities and differences while demonstrating positive lessons about friendship, problem-solving, collaboration, creativity and adventure. (source)
Puppy Dog Pals Cast:
Harland Williams: Bob
Issac Ryan Brown: Bingo
Sam Lavagnino: Rolly
Tom Kenny: A.R.F.
Jessica DiCicco: Hissy
Huey Lewis: Bulworth
Patrick Warburton: Captain Dog
Jack McBrayer: Hedgie the Hedgehog
Yvette Nicole Brown: Daisy
Leslie David Baker: Frank Exposition
Cheri Oteri: Esther Exposition
Jill Talley: Cupcake
Mo Collins: Strider
Tress MacNeille: Bob's Mom
Episode List:
| | | |
| --- | --- | --- |
| Episode # | Episode Title | Air Date |
| 1a | Hawaii Pug-Oh | April 14, 2017 |
| 1b | A.R.F. | April 14, 2017 |
| 2a | The French Toast Connection | April 14, 2017 |
| 2b | Take Me Out to the Pug Game | April 14, 2017 |
| 3a | The Go-Long Retriever | April 21, 2017 |
| 3b | Pot O' Pugs | April 21, 2017 |
| 4a | A Pyramid Scheme | April 21, 2017 |
| 4b | Special Delivery | April 21, 2017 |
| 5a | Design-A-Dog | April 28, 2017 |
| 5b | Ice, Ice Puggy | April 28, 2017 |
| 6a | Free Whaley | May 5, 2017 |
| 6b | Putting It Together | May 5, 2017 |
| 7a | Hissy's Big Day | May 12, 2017 |
| 7b | Go, Dog. Go! | May 12, 2017 |
| 8a | Pigs and Pugs | May 19, 2017 |
| 8b | Bob Loves Mona | May 19, 2017 |
| 9a | Don't Rain on my Pug-rade | June 16, 2017 |
| 9b | Their Royal Pug-ness | June 16, 2017 |
| 10a | Scuba-Doggies | June 23, 2017 |
| 10b | Walking the Bob | June 23, 2017 |
| 11a | Hissy's Kitty | July 7, 2017 |
| 11b | Polly Wants a Pug | July 7, 2017 |
| 12a | Leave it to Beavers | July 14, 2017 |
| 12b | Counting Sheep | July 14, 2017 |
| 13a | Captain Rolly | July 28, 2017 |
| 13b | The Coolest Dogs in Town | July 28, 2017 |
| 14a | Puzzling Pugs | August 11, 2017 |
| 14b | Rhapsody in Pug | August 11, 2017 |
| 15a | The Legend of Ol' Snapper | August 25, 2017 |
| 15b | Adventures in Puppy-Sitting | August 25, 2017 |
| 16a | Bye Bye, Butterfly | September 22, 2017 |
| 16b | A Seat at the Theatre | September 22, 2017 |
| 17a | Return to the Pumpkin Patch | October 1, 2017 |
| 17b | Haunted Howl-oween | October 1, 2017 |
| 18a | Close Encounters of a Pug Kind | October 13, 2017 |
| 18b | History Mystery | October 13, 2017 |
| 19a | Art for Pug's Sake | November 10, 2017 |
| 19b | Winter Wonderpug | November 10, 2017 |
| 20a | A Very Pug Christmas | December 1, 2017 |
| 20b | The Latke Kerfuffle | December 1, 2017 |
| 21a | Puggy-ology | February 23, 2018 |
| 21b | Squirrels Just Wanna Have Fun | February 23, 2018 |
| 22a | The Great Pug-scape | March 9, 2018 |
| 22b | Luck of the Pug-ish | March 16, 2018 |
| 23a | The Great Shirt Rescue | March 23, 2018 |
| 23b | A Pugtastic Day with Grandma | March 30, 2018 |
| 24a | Bob's Boomerang | July 6, 2018 |
| 24b | Fetch that Fish | July 13, 2018 |
| 25a | Electric Pugaloo | July 20, 2018 |
| 25b | Bingo & Rolly's Birthday | July 27, 2018 |
---
Related News:
---