Rose Red Taverne (Disneyland)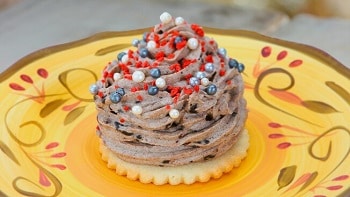 Rose Red Taverne Description:
Discover quick-service menu options perfect for breakfast, lunch or dinner―then top it off with the sweetest of treats.
Tucked away in a quaint corner of Fantasyland, this fairytale eatery offers delectable selections inspired by the flavors of French country cuisine. Stop by for très magnifique meals sure to transport you to Belle's provincial little town.
Bonjour! Start the day with delish dishes like a breakfast sandwich, garden vegetable hash or hearty breakfast platter, to name a few. Midday cravings? Try one of these tasty plates to tame the lunchtime beast—burgers or a grilled chicken sandwich with apple slaw, onion-bacon jam and fried cherry peppers. It gets even better as both are served with a side of pommes frites or sliced apples to please the palate.
Along with other items, the traditional poutine—featuring slow-cooked beef and gravy over seasoned waffle-cut fries, pickled onion and cheese curds—is a great dinner choice for anyone who has a hankering for something different. Veggie lover looking for a healthy alternative? Dig in to the chef's chopped salad, garden mozzarella flatbread or the Enchanted Cauli-Flower Sandwich—grilled cauliflower steak, vegan spicy lime aïoli, lettuce and stewed tomato on a toasted roll, served with french fries. Little ones can quell rumbling tummies with kid-friendly burgers, pizza or yummy cheesy macaroni.
Toast your good fortune with Gaston's Famous Brew―an apple-mango punch capped with passion fruit foam—then indulge in the creamy Grey Stuff Gâteau for dessert. Either makes a fitting finale to your feast! (source)
Disney Park(s) in this Post:
Disneyland Park
---
Related News:
---
Related Articles:
---