The Cheetah Girls 2 (Disney Channel Original Movie)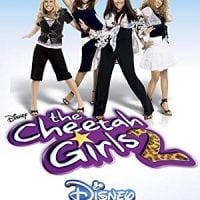 The Cheetah Girls 2 Description:
In the Disney Channel Original Movie The Cheetah Girls 2, best friends Galleria, Chanel, Dorinda, and Aqua, A.K.A. the girl band "The Cheetahs," get the opportunity of a lifetime when they strut their way to Barcelona, Spain, to perform in an international music festival. Along the way, the "amigas Cheetahs" learn that, although their paths are not the same, they are lucky to have one another for the journey.
Key Cast Members:
Raven-Symoné: Galleria "Bubbles" Garibaldi
Adrienne Bailon: Chanel "Chuchie" Simmons
Sabrina Bryan: Dorinda "Do" Thomas
Kiely Williams: Aquanette "Aqua" Walker
Lynn Whitfield: Dorothea Garibaldi
Belinda: Marisol Durán
Lori Alter: Juanita Simmons
Golan Yosef: Joaquin
Peter Vives: Angel
Kim Manning: Lola Durán
Abel Folk: Luc
Disney Character(s) in this Post:
Aquanetta Walker (Aqua) (The Cheetah Girls)