The Many Adventures of Winnie the Pooh (Disney World Ride)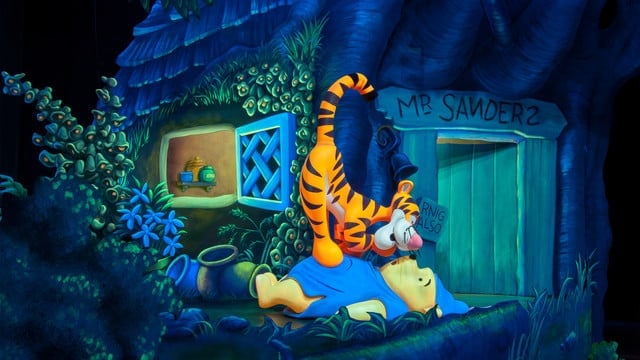 The Many Adventures of Winnie the Pooh Description:
In The Many Adventures of Winnie the Pooh, glide and bounce and swirl through some of the most popular scenes and settings of Winnie the Pooh. Board a giant Hunny Pot and get lost in the pages of A.A. Milne's classic tales, as you journey to Hundred Acre Wood.
Magically make your way through a colorful, song-filled storybook illustration and experience a menagerie of kooky adventures, including:
A Blustery Day in Hundred Acre Wood
Get swept up in a gust of wind with Gopher, Piglet, Eeyore, Kanga and Roo before sliding inside Owl's House.
Bounce with Tigger
Bob up and down with Tigger during a delightful hide-and-seek adventure at night.
Heffalumps and Woozles
Enter a dream world where singing Heffalumps and Woozles spring up and down, giggle and wiggle, and try to steal honey.
A Rainy Place
Awaken from a dream amid a torrential downpour as Eeyore, Roo, Kanga, Rabbit, Owl and Tigger band together to stay afloat.
A Party for Pooh
Celebrate sunny days and togetherness before leaving the pages of Hundred Acre Wood as Pooh finally gets his paws on some yummy honey.
The Many Adventures of Winnie the Pooh Video:
Disney Character(s) in this Post:
Christopher Robin (Winnie the Pooh)