Turtle Talk with Crush (Disney World Show)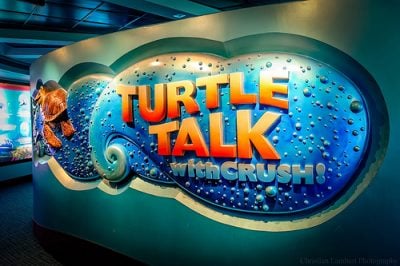 Turtle Talk with Crush Description:
At Turtle Talk with Crush, gather 'round a window to the ocean for a real-time Q-and-A session with your favorite totally tubular turtle. Righteous!
Join Crush as he welcomes a few new underwater pals from the blockbuster Disney•Pixar film!
While Dory has been stopping by Crush's "Human Tank" for a while, for the first time ever the tubular sea turtle may be joined by Marlin, Nemo and Squirt! In addition to his old friends, Crush is stoked to introduce you to some of his new dudes from Finding Dory too—including the whale shark Destiny, Bailey the beluga whale and Hank the octopus… well, "septopus" actually, now that he's lost a tentacle along the way.
So come along and visit Crush today! You never know who you'll meet from his growing pod of iconic ocean pals. (source)
Turtle Talk with Crush Video:
Disney Character(s) in this Post:
Bruce the Shark (Finding Nemo)
Crush (Finding Nemo)
Dory (Finding Nemo)
Marlin (Finding Nemo)
Nemo (Finding Nemo)
Squirt (Finding Nemo)
Disney Park(s) in this Post:

Epcot

---

Related News:

---

Related Articles:

---