The Prestige (Touchstone Movie)
Here is everything you need to know about the amazing Touchstone movie The Prestige including casting, reviews, fun facts and more. I hope you find this listing informative and helpful!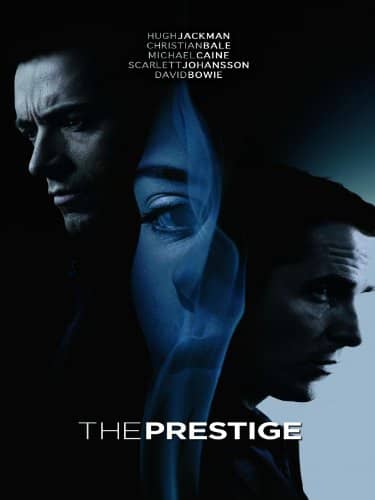 The Prestige Details:
Award-winning actors Hugh Jackman, Christian Bale, Michael Caine and Scarlett Johansson star in THE PRESTIGE, the twisting, turning story that, like all great magic tricks, stays with you. Two young, passionate magicians, Robert Angier (Jackman), a charismatic showman, and Alfred Borden (Bale), a gifted illusionist, are friends and partners until one fateful night when their biggest trick goes terribly wrong. Now the bitterest of enemies, they will stop at nothing to learn each other's secrets. As their rivalry escalates into a total obsession full of deceit and sabotage, they risk everything to become the greatest magician of all time. But nothing is as it seems, so watch closely.
Key Cast:
Hugh Jackman: Robert Angier (The Great Danton)/Lord Caldlow
Christian Bale: Alfred Borden (The Professor)/Fallon
Michael Caine: John Cutter
Piper Perabo: Julia McCullough
Rebecca Hall: Sarah Borden
Scarlett Johansson: Olivia Wenscombe
David Bowie: Nikola Tesla
Andy Serkis: Mr. Alley
Ricky Jay: Milton the Magician
Roger Rees: Owens
W. Morgan Sheppard: Merrit
Key Crew:
Director: Christoper Nolan
Producers: Emma Thomas, Aaron Ryder and Christopher Nolan
Screenplay: Jonathan Nolan and Christopher Nolan
---
Related Articles:
---