Here is everything you need to know about Walt Disney World's Magic Kingdom's extinct Mickey Mouse Musical Revue attraction including history, fun facts, photos and more. I hope you find this listing informative and helpful!
Mickey Mouse Musical Revue | Disney World Description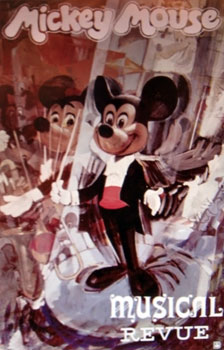 The Mickey Mouse Musical Revue was a former attraction at Magic Kingdom in Walt Disney World Resort. It was a musical show featuring audio-animatronic characters of Mickey Mouse and his friends performing classic Disney songs.
The show took place in a theater-style setting, where guests could enjoy a 25-minute performance by Mickey, Minnie, Donald Duck, Goofy, and other beloved Disney characters. The animatronic characters were dressed in colorful costumes and moved in synchronized movements to sing and dance to popular Disney tunes.
The Mickey Mouse Musical Revue featured a variety of musical numbers, including songs from Disney movies such as "The Jungle Book," "Cinderella," "Peter Pan," and "Alice in Wonderland." The show provided a fun and entertaining experience for guests of all ages, allowing them to sing along and interact with the characters.
The Mickey Mouse Musical Revue opened in Magic Kingdom in 1971 and operated until 1980. After its closure, the theater underwent several transformations and eventually became the current Mickey's PhilharMagic 3D film attraction, which combines 3D projection and special effects with a musical journey through classic Disney films.
---
Mickey Mouse Musical Revue | Disney World Fun Facts
The show theater seated 500 guests.
The Donald, Jose and Panchito animatronics are now used in the finale of Epcot's Gran Fiesta Tour.
---
Mickey Mouse Musical Revue | Disney World Details
Mickey Mouse Musical Revue | Disney World Experience:
---