Disney announced in February 2015 that they will be rebooting their popular late 80's syndicated animated television series DuckTales. Since the original announcement, a few bits and pieces of info have trickled out about the new DuckTales. Here is what we currently know:
DuckTales Details:
The new DuckTales will debut in the summer of 2017 on DisneyXD. When exactly in the summer it will premiere is still unknown. The first season will include (21) 30-minute episodes and (2) 1 hour specials. Like the original, the reboot will star Huey, Dewey and Louie and their granduncle Scrooge McDuck.
DuckTales Synopsis:
According to Disney:
The new series' adventures will once again take viewers along as Scrooge McDuck, his curious and mischief-making grandnephews—Huey, Dewey, and Louie—and the optimistic-yet-temperamental Donald Duck embark on high-flying adventures worldwide. Other beloved characters slated to be in the new stories are: Duckworth, Gyro Gearloose, Launchpad McQuack, Flintheart Glomgold, Magica DeSpell & Poe, Ma Beagle and the Beagle Boys (Burger Beagle, Bouncer Beagle), Mrs. Beakley, and Webbigail Vanderquack.
DuckTales Cast:
Disney recently announced the following DuskTales cast members:
David Tennant as Scrooge McDuck
Danny Pudi, Ben Schwartz and Bobby Moynihan as Huey, Dewey and Louie, respectively
Beck Bennett as Launchpad McQuack
Toks Olagundoye as Mrs. Beakley
Kate Micucci as Webby Vanderquack
Here is a fun little video of the new cast singing the original DuckTales theme song:
DuckTales Artwork:
Here is a sneak peak at the artwork of the new DuckTales: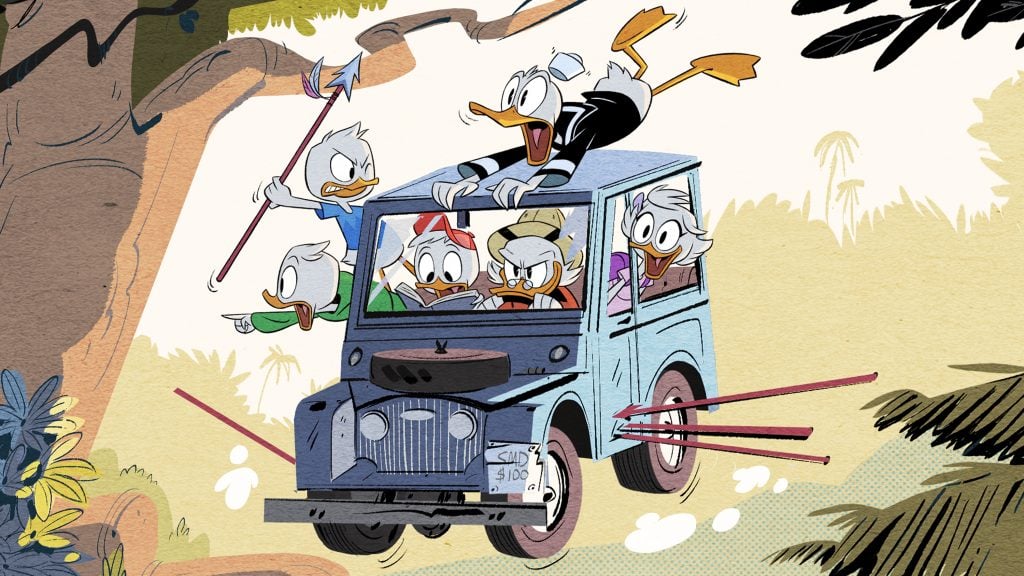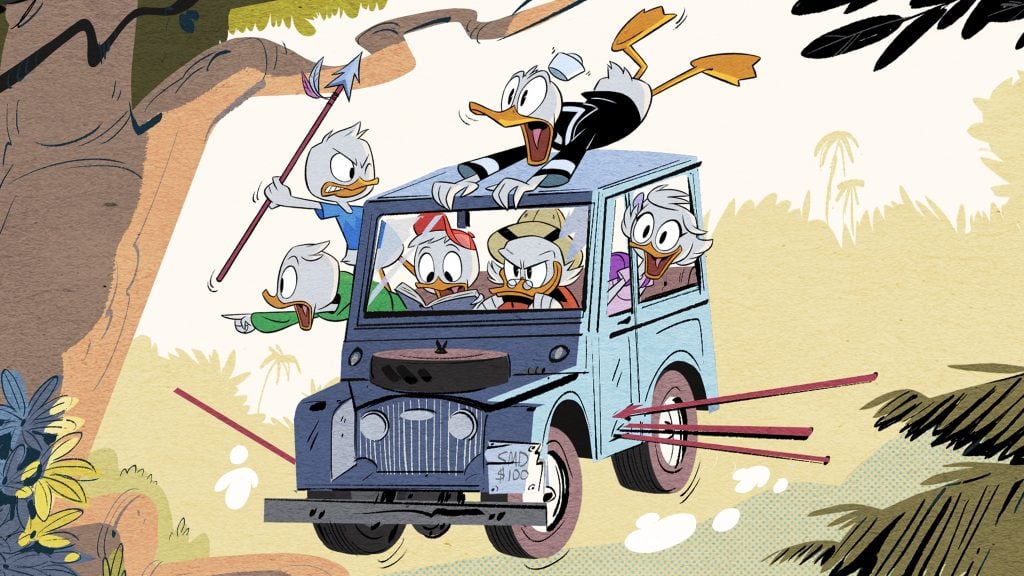 DuckTales Trailer(s):
here is a (very) quick teaser trailer for the new DuckTales:
and here is a lengthier look at the new show:
That's about all we know so far. As always, I will be updating this post whenever I come across more details about DuckTales, so stay tuned for more!
Update May 19, 2017: Deadline Hollywood is reporting today that a person very familiar to Disney fans is joining the cast of the DuckTales reboot. Lin-Manuel Miranda of Hamilton (and Moana) fame will be voicing Gizmoduck in the Disney XD show.
Update June 8, 2017: More cast members of DisneyXD's upcoming DuckTales have been identified. Here sre the latest cast additions:
Tony Anselmo (Donald Duck)
Paul F. Tompkins (Gladstone Gander)
Jim Rash (Gyro Gearloose)
Allison Janney (Goldie O'Gilt)
Margo Martindale (Ma Beagle)
Keith Ferguson (Flintheart Glomgold)
Josh Brener (Mark Beaks)
Kate Micucci (Webby)
Update June 9, 2017: To celebrate Donald Duck's birthday, Disney has released a couple of fun shorts from the upcoming DuckTales series. Have a look:
DuckTales Short: Happy Birthday, Donald!
DuckTales Short: Scrooge
Update June 14, 2017: Big News! We have a DuckTales premiere date and a new theme song! Disney announced today that the DuckTales reboot will premiere at midnight on August 12th with a 1-hour episode titled "Woo-oo!" That episode will run repeatedly for 24 straight hours on DisneyXD. After that debut, the series will kick off on September 23rd with the next two episodes airing on DisneyXD.
Here is a look at the new DuckTales opening and theme song which was also released today:
Update July 22, 2017: Big News! Our friends over at ChipandCo are reporting that an announcement was made at San Diego Comic Con that DarkWing Duck will return in the new Ducktales.
Update August 14, 2017: We now have DuckTales! The first episode is now available online. Wait no more:
Update September 23, 2017: Ducktales has officially premiered on TV! For the forseeable future, it will be airing weekly on Saturdays on DisneyXD. Of course, you can always watch episodes OnDemand through your cable operator or on WatchDisneyXD.
Disney Character(s) in this Post:
Donald Duck
Drake Mallard (Darkwing Duck)
Fenton Crackshell (Gizmoduck)
Launchpad McQuack (DuckTales)
Scrooge McDuck (DuckTales)