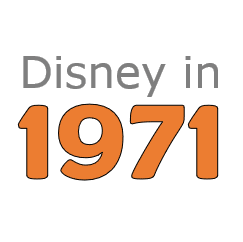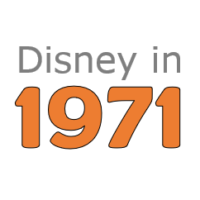 The Walt Disney Company has a rich and lengthy history with decades of amazing movies, shows and park experiences. To commemorate Disney's 100th birthday this year, I am spotlighting the company's history year by year in this new 'Disney by the Years' series.
Here is a quick rundown of everything that happened in the world of Disney in the year 1971. I hope you find this lookback in time helpful and entertaining.
Disney Company Headlines in 1971:
The dominant Disney headline in 1971 is the opening of their massive Florida project in October. This was the realization of Walt's dream and the biggest project in company history. More to come about this event in a bit.
Almost equal in impact to the future of the company was the passing of Walt's brother and CEO of the company since Walt's death, Roy O. Disney on December 21, 1971. Not only was this a sad event and the end of an important chapter in company history, but it also ushered in the company's first CEO that wasn't a member of the Disney family. Donn Tatum was quickly named Chairman and CEO of the Company after Roy's death.
Disney Movies Headlines in 1971:
In 1971, Disney released several movies, including:
As was custom at this time, Disney also re-released a number of classic movies to theaters in 1971:
Overall, 1971 was a busy year for Disney, with a mix of new live-action films and the release of animated classics.
Disney Parks Headlines in 1971:
Disneyland Headlines:
In 1971, with so much of the company's focus on opening the new Florida park, things were a bit quieter at the Disneyland theme park in Anaheim, California than in the past. There were a couple of additions to the park including:
Other park changes included:
Overall, 1971 was not as significant a year for Disneyland as previous years with classic attractions like the Haunted Mansion, It's a Small World and The Pirates of the Caribbean opening in the park in the immediate years prior. This lull in Disneyland activity won't last long as you will see in future installments of this series.
Disney World Headlines:
In 1971, Walt Disney World Resort opened in Orlando, Florida, with the following attractions and features:
Here is a complete rundown of every ride, attraction, restaurant and shop at the Magic Kingdom over the years.
Also, in December, the inaugural Walt Disney World Open golf tournament was held at the resort's Magnolia Course.
Overall, the opening of Walt Disney World in 1971 was a significant milestone for the Disney Company, as it marked their expansion into the East Coast and their first foray into building a full-scale vacation resort. The success of Walt Disney World helped to solidify the Disney Company's position as a leading player in the theme park and entertainment industry.
Disney Television Headlines in 1971:
Disney didn't launch anything new on TV in 1971, but The Wonderful World of Disney, which debut in 1969, was going still going strong every Sunday night. This long-running anthology series featured a variety of Disney movies, cartoons, and specials, as well as original programming.
Also, on October 29, 1971, The Grand Opening of Walt Disney World television special featuring Julie Andrews and Glen Campbell aired on NBC.
That's all for 1971. Stay tuned for in-depth looks at additional years in the very near future!