Mickey Mouse Musical Revue | Extinct Disney World Attractions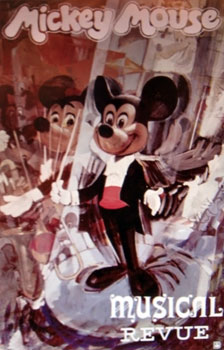 Mickey Mouse Musical Revue Description:
The Mickey Mouse Musical Revue was an audio-animatronic show in the Magic Kingdom's Fantasyland area. The show was an original Disney World attraction and ran through 1980. The show was presented in the area where Mickey's PhilharMagic is currently.
Disney characters featured in the show included:
Mickey Mouse, Minnie Mouse, Daisy Duck, Pluto, Goofy, Huey, Dewey, Louie, Ludwig Von Drake, Mad Hatter, March Hare, Dormouse, Winnie the Pooh, Rabbit, Piglet, Monty, Abner, Gus, Jaq, Dumbo, Timothy, Kaa, King Louie, Baloo, Three LIttle Pigs, Snow White and the Seven Dwarfs, Alice, The Three Caballeros, Cinderella, Fairy Godmother, Prince Charming, Br'er Rabbit, Br'er Fox and Br'er Bear.
Mickey Mouse Musical Revue Show Video:
Here's a look at the show experience from back in the day…
Disney Character(s) in this Post:
Baloo Bear (The Jungle Book)