Here are more Epcot facts and statistics that you will ever need to know including attraction statistics, historical info and much more. If there is a stat or fact about Epcot, or anything related to Disney for that matter, that you don't see on this site but were curious about, please let me know and I'll try to work it into the next round of updates if I can dig the info up.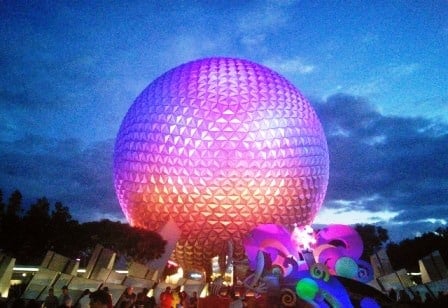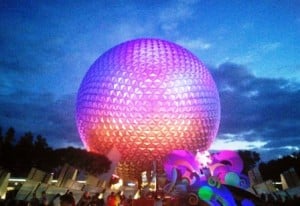 Call me crazy, but my all-time favorite Walt Disney World park is Epcot. I admit, there is a bit f nostalgia that plays into that selection. Back in the 80's, as a kid that was obsessed with space and science, this park was like something I had never seen and I was sucked in pretty quickly. Flash forward 30+ years and the park has changed significantly, but I still love visiting the few remnants of the old park and exploring new ones with my son, who is starting to appreciate the park more as he grows up.
So, I recently sat down to see what I could dig up for interesting info about Epcot. Here are some of the more interesting Epcot Facts and Statistics I was able to dig up. As always, I will be adding more and updating these periodically as I find new stuff. Be sure to check back regularly.
See also: 150 Amazing Walt Disney World Facts and Statistics
Please note that some of these Epcot facts are easier to find than others, so some of these are based on news reports and not official company tallies. All stats are linked to their source unless it was sent to me directly from the company. No stat listed here should be considered in making any type of investment decision. In other words: This is the best I can find, but I don't guarantee anything.
Epcot Facts:
What does EPCOT stand for?
Epcot stood for Experimental Prototype Community of Tomorrow and was originally supposed to be an actual city.
---
When did Epcot open?
Epcot opened on October 1, 1982
---
Epcot was the second of the four major theme parks at Walt Disney World to be built.
---
Where is Epcot located?
Bay Lake, Florida
---
How old is Epcot?
40 years old
---
What was Epcot supposed to be?
Here is a very interesting film in which Walt Disney himself explains his original vision for EPCOT. Keep in mind that this was his vision for the Florida project as a whole. The theme park was originally just a small piece of it.
---
EPCOT Center officially became EPCOT in 1996.
---
Countries represented in Epcot's World Showcase:
Canada
United Kingdom
France
Morocco
Japan
United States
Germany
Norway
Italy
China
Mexico
---
Current World Showcase pavilions that didn't exist when the park opened:
Morocco (Opened in 1984)  and Norway (1988)
---
World Showcase pavilions that were announced at open, but were never built:
Israel, Spain, Equatorial Africa
---
First appearance of Figment at Epcot:
1982 (He and the Dreamfinder where in the grand opening TV special, which aired in October 1982, but the Journey Into Imagination ride didn't actually open until March 1983.)
---
Inaugural years for each of the Epcot festivals:
Epcot International Flower and Garden Festival: 1994
Epcot International Food & Wine Festival: 1995
Epcot International Festival of the Arts: 2017
Epcot International Festival of the Holidays: 2017
---
Epcot Statistics:
Epcot attendance total for 2019:
Complete Epcot Attendance Figures Can be Found Here.
---
Epcot has the largest parking lot of any Disney theme park, featuring over 10,000 parking spaces.
---
Number of pizzas served at Epcot's Via Napoli all time:
Last updated 5/24/16
---
More than 225 million food dishes are served during the Epcot Food & Wine Festival
---
Number of global marketplaces at the Epcot International Food & Wine Festival:
Last updated 2017
---
Longest-running Epcot International Food & Wine Festival:
2022 (129 days)
---
Number of years that Disney has been holding the Epcot International Food & Wine Festival:
27 years
---
Original length of the Epcot International Food & Wine Festival:
30 days
---
Epcot's Spaceship Earth (the Golf Ball) is made up of 11,324 triangle components.
---
Number of countries represented in the Epcot World Showcase:
---
Amount of fruits and vegetables grown annually at Epcot's Land Pavilion:
Last updated 2/6/13
---
Epcot's Living Seas Aquarium was once the largest aquarium in the world.
---
Epcot's Test Track is the fastest Disney theme park ride ever built (64.9 mph).
---
Disney Park(s) in this Post:
Epcot